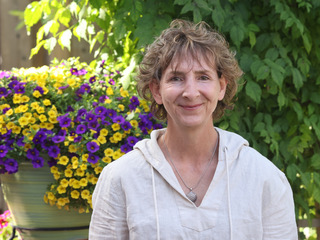 Christina Haverkort, R.M.T.
Personal Information: Christina Haverkort, R.M.T.
 Designation: Registered Massage Therapist 
 Years in Practice 7 years
 Professional school: Royal Canadian School of Massage Therapy
 Langara College, Vancouver, BC
Health Insurance Coverage: Covered under most extended health care plans
 Christina's interests in natural health and healing began in 1996. She explored alternative medicine to reduce stress on her body and mind from rigorous work in the renovation field while living in Vancouver, BC. She was also an avid cyclist, snow boarder and hiker, so activity was constant and… injuries occurred . It was in 2006 when she began her studies in energy medicine to understand a fuller scope of health and wellness. After dividing her time between her distance energy healing practice and renovation work, she returned to school for Massage Therapy. Graduating in 2015 in Toronto, she moved back to BC to begin her massage therapy practise. Having suffered a significant concussion and upper cervical injury a year before leaving, this experience led her to understanding the significant impact on the rest of the body and multiple body systems. She was very fortunate to have worked along side two very skilled therapists in BC, while seeking other therapy to address the cervical injury. Christina moved back to Ontario in 2022 and has resumed her massage therapy practice after a near fatal injury in the summer of 2021. Much of her experience stems from her own injuries and understanding of how to treat them.
Christina's skills include, her own soft tissue methods, educating her patients on postural alignment, craniosacral therapy (CST), visceral, osteopathic techniques, fascia manipulation (FM), muscle energy technique (MET) and connective tissue release. In addition she provides support to the nervous system for stress and anxiety.
"Using an intuitive approach, I look at massage therapy as treating the body as a whole,
manipulating soft tissue following through the deep fascia lines, increasing circulation and bringing tissue back to its primary function and encouraging deep relaxation."